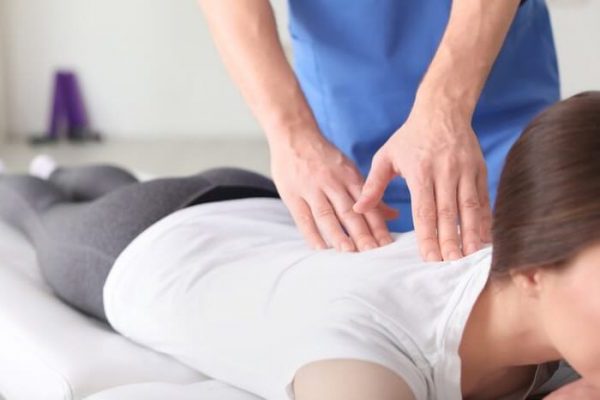 Chiropractic and McTimoney Chiropractic
Free 20 Minute Back Check/Assessment
At Marlborough House our Chiropractic and Osteopathy team offer all our clients the opportunity to come in and have a free initial back check/assessment to find out exactly how we can help with your pain or discomfort. We have both male and female practitioners should you have a preference and between our team we can offer appointments Monday – Friday. Our aim is to help you to live your life with your body working as well as possible. Call 01823 272227 or email contact@mh-tc.com to book.
What is Chiropractic/McTimoney Chiropractic Treatment?
Chiropractic treatment use's hands-on spinal manipulation and other alternative treatments, the theory being that proper alignment of the body's musculoskeletal structure, particularly the spine, will enable the body to heal itself without surgery or medication. Manipulation is used to restore mobility to joints restricted by tissue injury caused by a traumatic event, such as falling, or repetitive stress, such as sitting without proper back support.
Chiropractic is primarily used as a pain relief alternative for muscles, joints, bones, and connective tissue, such as cartilage, ligaments, and tendons. It is sometimes used in conjunction with conventional medical treatment.
McTimoney Chiropractic treatment was developed by the late John McTimoney over 50 years ago and is taught only at the McTimoney College of Chiropractic in Abingdon, near Oxford and more recently Manchester. It is well known for being a precise, whole body approach to chiropractic care.
The gentle nature of chiropractic the McTimoney way makes it suitable for people throughout their lifetime from babyhood to those in later life.
What are the benefits of Chiropractic treatment?
Chiropractors focus on the spine and the neuro-musculoskeletal system and how conditions affecting these areas can affect your health and performance. Chiropractors are trained to assess the neuro-musculoskeletal system and identify restrictions, imbalances and dysfunction. Chiropractic care involves spinal and peripheral joint adjustments and mobilisations, application of soft tissue treatment and advice on exercise, self-help, diet and lifestyle where appropriate.
A package of chiropractic care may be used regularly to help maintain good posture, promote health and improve performance, no matter what it is you do, from a high performance athlete to a senior member of the community enjoying a potter in the garden. Patients undergoing chiropractic care often report benefits from:
Ankle sprain (short term management)
Cramp
Elbow pain and tennis elbow (lateral epicondylitis) arising from associated musculoskeletal conditions of the back and neck, but not isolated
occurrences
Headache arising from the neck (cervicogenic)
Inability to relax
Joint pains
Joint pains including hip and knee pain from osteoarthritis as an adjunct to core OA treatments and exercise
Back Pain
Generalised aches and pains
Lumbago
Mechanical neck pain (as opposed to neck pain following injury i.e. whiplash)
Migraine prevention
Minor sports injuries and tensions
Muscle spasms
Plantar fasciitis (short term management)
Rotator cuff injuries, disease or disorders
Sciatica
Shoulder complaints (dysfunction, disorders and pain)
Soft tissue disorders of the shoulder
About the Treatment
Chiropractors use a range of techniques to reduce pain, improve function and increase mobility, including hands-on manipulation of the spine. As well as manual treatment, chiropractors are able to offer a package of care which includes advice on self-help, therapeutic exercises and lifestyle changes.
Chiropractic treatment involves safe, often gentle, specific spinal manipulation to free joints in the spine or other areas of the body that are not moving properly. Apart from manipulation, chiropractors may use a variety of techniques including ice, heat, ultrasound, exercise and acupuncture as well as advice about posture and lifestyle.
When you see a chiropractor for the first time, they will do a detailed assessment of your health. You will be asked for information about your current condition and also about your medical history and overall health.
Some of the questions you will be asked may not seem important, but they will help your chiropractor to establish an overall picture of your health and determine whether chiropractic care is appropriate for your condition.
If your chiropractor is unable to help or decides that some other treatment would be more beneficial for your condition; you will be referred to your GP or to another health care professional.