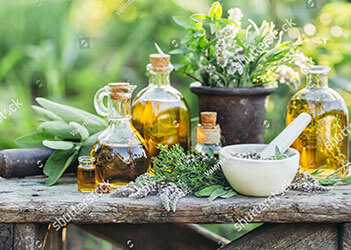 AROMATHERAPY
What is aromatherapy?
Aromatherapy is gentle massage using plant oils (essential oils). It is designed to treat you as a whole person, not just your symptoms. Natural oils are gently massaged into your body where they can deliver their beneficial healing powers, restoring your body's natural ability to balance, regulate, heal and maintain itself.
Aromatherapy massage is safe and gentle. The NHS has said of massage therapies that they 'ease tension, stiffness and pain and enhance well-being. They may also improve breathing and circulation as well as having an overall relaxing and soothing effect.'
What to expect
Your massage session at Marlborough House will be in a warm, comfortable room with soft music to help you relax. We'll ask you about your health, your medical history and your lifestyle, so that we can tailor a massage treatment specifically for you. We go to great lengths to ensure you never feel embarrassed, and your body will be discreetly covered. In a typical session we may work on your back, neck, shoulders, arms, hands, legs and feet, working with a subtle blend of healing oils. Aromatherapy is a wonderful, caring, healing experience. Simply close your eyes, relax, and enjoy it!
Who and what we treat
Aromatherapy can enhance your health and sense of well-being, releasing long-term muscular tension and easing chronic pain. It has proved effective in improving circulation and reducing blood pressure, and can help rheumatic joints regain flexibility. And if you're mentally or physically exhausted, essential oils can encourage better sleep, improve concentration, and reduce stress and anxiety.
Contact us
Remember – You can talk to us about your problems completely free and without obligation. Please call 01823 272227 or Contact Us
Research
If you would like to read some research articles related to Aromatherapy and conditions it may help with, please click on the appropriate link below: