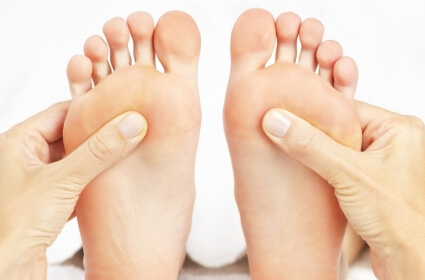 Reflexology - We are not currently offering this service
What is Reflexology?
Reflexology is a complementary therapy that is based on the theory that different points and areas on the feet, lower leg, hands, face and ears correspond with different areas of the body. Reflexology is an ancient therapy which has been practised for over 5000 years and we believe that working these points or areas can help aid relaxation, improve mood, release tension, enhance sleep and can generally help improve wellbeing; allowing us to cope better with the stresses that life can bring. 
We acknowledge that every person is unique and some people find other things improve as well – the only way to know if reflexology will help you is to try it! 
What are the Benefits of Reflexology?
Besides Reflexology being a wonderfully relaxing experience, where you can take time out from everyday pressures, it is useful in other areas.   It is often used to help people cope with more specific health issues and works alongside regular healthcare to enhance better health. 
Relaxation

 - encourages relaxation which helps improve mood and aids restful sleep

 

Stress Relief

 - helps to relieve anxiety, promoting peace and calm, giving relief from stress

 

Soothes the feet

 

-  helps

 to ease pain and tension in the feet

 

Improves circulation and reduces 

pain

  –

 by working on specific reflex points

 

Improves our overall sense of well-being

 - supports a healthy mind and body when used regularly

 
About the Treatment?
First you will be asked about your health, your medical history and lifestyle, so that your therapist can tailor a treatment specifically for you. You do not have to take off your clothes, only your socks or tights and shoes. You will be asked to lie down on a treatment bed. 
Your therapist will use a number of gentle massage and pressure techniques to relax and loosen the muscles in your feet. During the session you can close your eyes and relax, or our therapists are always pleased to chat. In general, you should find the session pleasant and soothing (but once or twice you may feel a very slight discomfort – this is normally an indication of an imbalance in the corresponding part of your body). Your tensions will be eased, and your circulation improved. This gentle therapy encourages the body to heal itself. 
FAQ's
How long is a treatment?
A treatment is for 60 minutes 
How will I feel after a treatment?
Everyone is different but we have been told by some clients that they feel relaxed, alive and walking on air! 
Are there any discounts for block bookings?
Yes, many clients take advantage of our 5 appointments for the price of 4.