Therapists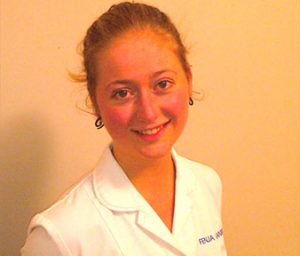 FENJA HANSEN
Fenja (pronounced Fenya) Hansen joined Marlborough House in August 2015. Here is a little more about her:
FENJA HANSEN, M.OST., D.O.
Fenja has graduated with a first class integrated Masters degree from the European School of Osteopathy, Kent. She is registered with the General Osteopathic Council (GOSC) and is a member of the Institute of Osteopathy (IO).
Early on in her undergraduate studies Fenya developed a special interest in cranial osteopathy and women's health in general, including pre- and post-natal care, and already focused on this at the university's students' clinic. However, she believes that anyone can benefit from osteopathic treatment and she therefore utilises a range of gentle approaches to wide spectrum of patients. Fenya also strongly believes that psychological and emotional factors can dramatically influence a person's physical well-being and vice versa, and that treatment should go beyond the musculoskeletal apparatus to consider all areas of an individual's life. She has also trained to provide medical acupuncture.
In her spare time Fenya enjoys traveling and a range of outdoor activities including hiking, climbing, and cycling. She also engages in yoga, pilates and mediation, plays the piano and pursues a vivid interest in nutrition and cooking.